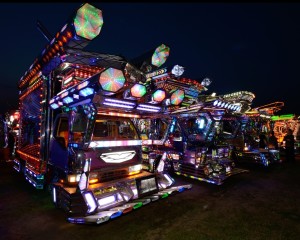 Japan is no stranger to subcultures and the fetishisation of niche interests, but even in a place with so many super specialized hobbies, Dekotora sticks out. Beginning in the 1970s, some trucking services drivers began to decorate their trucks with loads of bright lights, extravagant paint jobs and stainless steel or gold exterior parts. These heavily personalized trucks drew the attention of filmmakers, who began releasing movies prominently featuring the Dekotora trend. The first of these films, which began a long series of Dekotora films, was Truck Rascals, released in 1975.
Incidentally, this was around the same time Hollywood became infatuated with truck drivers back in the States as well, releasing films like White Line Fever in 1975 and Breaker! Breaker! in 1977, but more on that strange fad another time.
Back in Japan, Dekotora took off on the back of the Truck Rascals films and the ostentatious trucks became a popular fad in and around Tokyo, where trucks became even more garish, not merely modifying the outside of the truck with murals, lights and neons, but even decorating the inside of the truck as well, outfitting it with wall paper, carpeting, home electronics and even chandeliers. Dekotora trucks became homes away from home for many overnight shipping drivers, not just a means of employment but a passion as well.